Isn't it time to Transcend?
When was the last time your meeting was memorable in a good way?
Transcend Leadership Center (TLC) is Raleigh-Durham's luxury meeting center for executives.
We are about to change the way you judge what a successful meeting looks and feels like. Our turnkey, all-inclusive space is meticulously curated with C-level leadership in mind.
Designed for comfort, convenience and creativity, TLC is a step above, creating meeting experiences that are high-end but approachable and fun.
Reserve Your Meeting Space
By The Numbers
Meeting rooms that comfortably hold from 2-24

Square feet of whiteboard space with Dry Erase Markers… that work!

Herman Miller® Aeron chairs

Different hot beverages options

Cold Beverages options, including the pellet ice everyone loves.

Hidden charges, F&B minimums, or the famous "++" service fees.
Amenities
At Transcend Leadership Center, we wanted to create a space for meetings and conferences that is beyond the basic corporate conference room rental. While other facilities might have additional fees for catering or AV support, our room rentals come with:
Custom-made, standing height tables made out of locally reclaimed wood, so colleagues can sit or stand and be at the same eye level
Herman Miller® Aeron chairs so participants can focus on the meeting
Wireless & Wired AV that supports multiple presenters
360-degree Meeting Owl Camera
Delicious hot breakfast and lunch served daily
Snacks, ice cream, and beverages are available throughout the day and included at no extra charge
Gourmet coffee maker
Floor-to-ceiling windows that provide natural light in every conference room and throughout the entire space
Ample, free parking with electric vehicle charging station
What Sets Us Apart
Not all meeting spaces are created equally. Transcend Leadership Center was built for companies that understand that the environment is an essential component of a successful meeting. Our leadership-themed meeting space design aims to increase productivity, spark creativity and inspire everyone to level-up their game.
What Makes Us Unique
All-inclusive pricing
Conveniently located 7 minutes from RDU Airport and walking distance from the Hampton Inn & Suites, Embassy Suites, and the Westin
Veteran, Locally Owned and Operated
Customized, thoughtful space design
Gong for celebrating accomplishments
The only thing not included is a trained meeting facilitator; we have those too!
Most meetings suck, but they suck a lot less here; we guarantee it.
Location
Located in the heart of the Triangle, just a short drive from the RDU and nestled in the Brier Creek area of Raleigh, NC—Transcend Leadership Center is based in a hub of activity.
Surrounded by hotels, Brier Creek restaurants, and minutes away from Angus Barn, anytime you visit can be a thrill for your employees and clients alike.
Between Durham, Cary, and Raleigh, the central location is perfect for a corporate retreat, quarterly meeting, or anything in between. Between the modern and comfortable interiors and everything the Raleigh area has to offer, you can keep the creativity flowing from opening statements to the evening's happy hour.
Brier Creek Corporate Center
8041 Arco Corporate Dr.
Suite 120
Raleigh, NC 27617

Our location is convenient to:
3 Hotels within walking distance: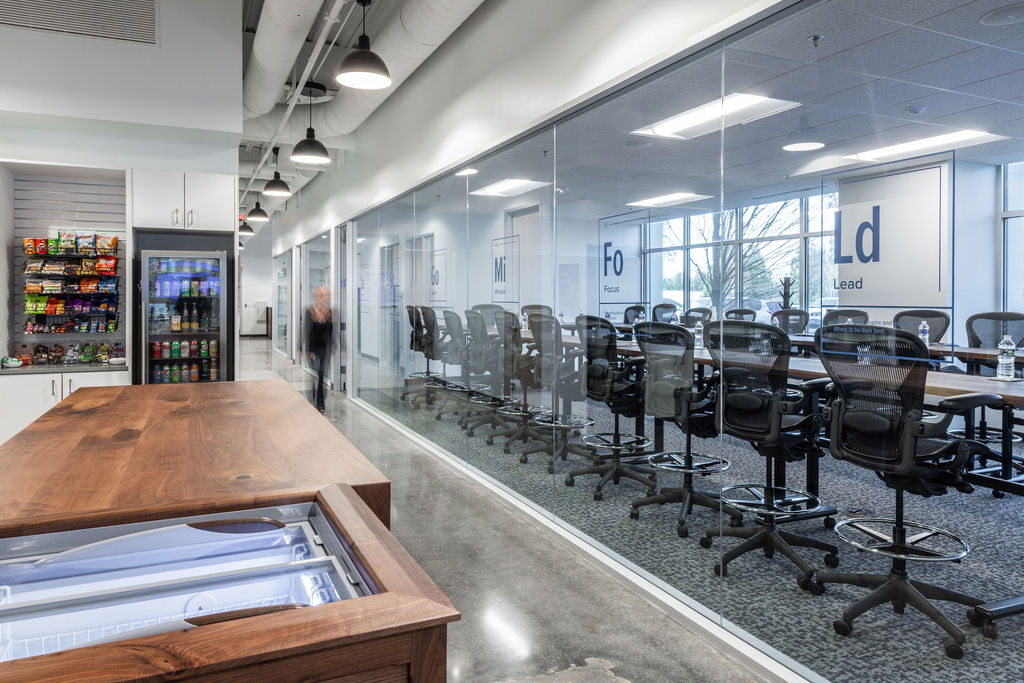 Take a Tour
We'd love for you to have a chance to take a look at everything that Transcend Leadership Center has to offer. As a space designed for comfort, collaboration, and creativity, our rentals have the following features:
Spacious Conference Rooms
Plenty of room to spread out and collaborate
Exterior rooms filled with natural light
Latest Smart technology and A/V support
Ample outlets for charging all your devices
Luxury Furnishings Designed for Collaboration
Standing height tables to work sitting or standing
Modern, comfortable furnishings like Herman Miller chairs
Lounge areas and ample whiteboard space
All-Inclusive Catering and Support
Snacks and beverages included throughout the day
Catered, plated gourmet meals
Staff support for A/V or other technical needs.
In addition, with a location at the center of it all— with hotels and restaurants just a short drive (or walk) away, the facility can truly take your meetings to the next level. Take a tour to learn all about Transcend Leadership Center and about everything we have to offer.
View Gallery
About Us
Transcend Leadership Center was created by Kyle Breischaft, the Managing Partner of Unite Advisors, LLC. Kyle is a serial entrepreneur and a leadership team coach. He has facilitated over 500+ C-Suite executive meetings all over North America, so he knows how meeting facilities dramatically affect the quality and effectiveness of meetings.
Kyle wanted a high-end, well-designed, comfortable space to host his global clients. The custom standing-height conference tables and comfortable chairs were just the start. Kyle ensured every detail was well thought out to provide a Leadership Team with everything they needed to have the most focused and productive meetings.
Every detail at Transcend Leadership Center, from the location to the smallest detail, like having over-the-counter medicine available if someone is not feeling their best, was curated personally by Kyle, not an interior designer.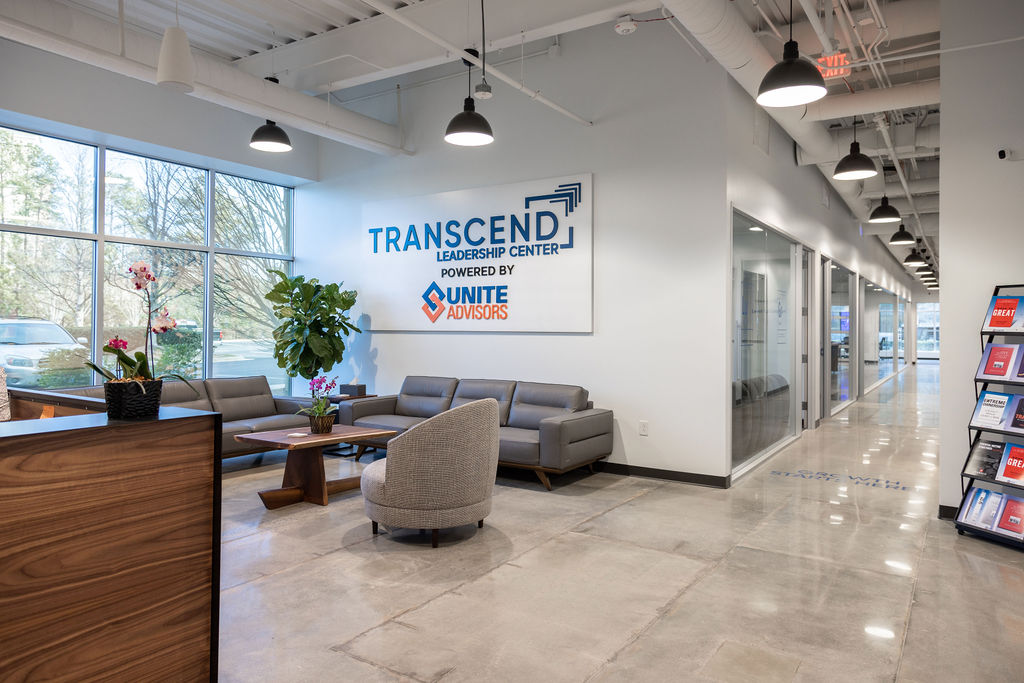 Trusted By
What People Are Saying
"Cutting edge space with great technology capabilities, ample room to spread out, convenient with nice conference tables that you can stand or sit at equally well…for people who don't want to sit all the time, this is great."

"This meeting space exceeds all expectations and has everything you need to host any team! Cutting edge technology, Everything your team needs to stay focused and fueled for the day (hello snacks for dayssss!) And an amazing staff! This is the premier meeting space in the Triangle!"

"Exceeded expectations, left and right. I knew the space and experience was going to be great, but day 1 blew all my expectations out of the water. Top notch from start to finish.

Long meeting days can be hard to get through but the natural light, comfortable chairs & the endless snacks (an ice cream freezer - what?!) & beverages makes for an easier long day!"

"Need a place for your team to FOCUS? This is the space your team deserves!

This space is awesome! Their large open meeting spaces are comfortably furnished, well-lit and had the built-in technology to support our needs. The all-inclusive package made it easy for us to simply show up, start working, have lunch and take breaks without having to leave the building.

We will be back!"

"Top notch meeting space! Every detail has been considered. We could focus on details of our meeting rather than worry about the odds and ends that usually come with meeting planning...Our hybrid meeting went smoothly with the available tech. Staff was friendly and helpful to get us connected in no time.

Look no further if you need a meeting room!"

"This is a great meeting space, especially if you want a convenient central spot for a team coming in from out of town (it's close to the RDU Airport). It was very easy to work with the team to get everything scheduled and set up. Thankfully the space has lots of natural light. The detail I loved the most was the sit/stand conference tables and chairs–perfect for those of us who like to stand and walk around while brainstorming."